Maintenance Windows
Maintenance Windows can be used to schedule periods of time during which the monitoring of one or more Systems is turned off.
Even more, you can automatically stop an SAP Instance or an SAP System at the beginning of a Maintenance Window and start it again at the end of it.
Availability Data is recorded even if the monitoring is turned off. And if a system is down during the Maintenance Windows, the downtime is considered as "planned" and does not count for the Service Level Report.
A Maintenance Window can be thought of as a container for Schedules indicating when to turn monitoring off (and on) for a Dynamic Group or a Static Group of Servers, SAP Systems, Databases, and Business Services.
A Schedule is a recurrent or non-recurrent event with a start time and a duration reflecting one or more periods of time. One or more Schedules can be assigned to a Maintenance Window, forming the following relation: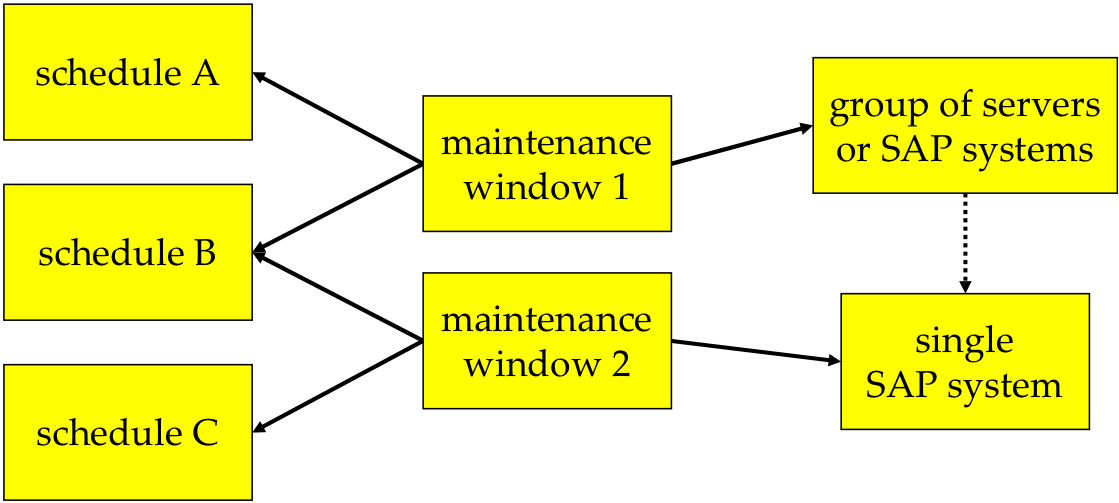 A particular System can be affected by multiple Maintenance Windows, thus Schedules may overlap.